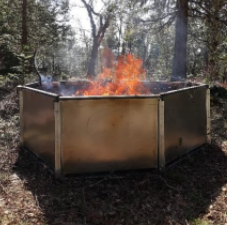 Webinar with Ken Carloni
Sept. 15, 2021

Integrating Biochar Production into your Forest Stewardship Practices
Ken will discuss the art and science of field-based biochar production and show us how using flame cap kilns to convert forest slash to biochar much of the carbon is sequestered for millennia.  Spend an enlightening evening with Dr. Ken Carloni of the Yew Creek Land Alliance in Southwest Oregon as he gives an overview of the many benefits provided by biochar, and introduces you to the operation of flame cap kilns. 
We will discuss the implementation of forestry grants for these processes at the Yew Creek property.  Images from the YCLA's oak habitat restoration projects integrating slash conversion to biochar will be used to illustrate these concepts.  
This event is brought to you through the collaboration of:
Siskiyou Permaculture 

FUSEE (Firefighthers United for Safety, Ethics and Ecology) 

Fire Ecology Network 

Fire Ecology Restoration Project of PINA (Permaculture Institute of North America)
Ken Carloni holds a M.S. in Evolutionary Ecology from the Univ. of Connecticut, and a Ph.D. in Forest Ecology from Oregon State Univ. His doctoral research focused on the use of landscape fire by the indigenous peoples of southwestern Oregon. He taught a wide range of Biology and Natural Resources classes at Umpqua Community College from 1987 to 2018, and partnered with the OSU College of Forestry to develop the Natural Resources Associate of Science degree at UCC. Since retirement, he has focused on ecological restoration and biochar kiln design and testing as the Education Program Chair of the Yew Creek Land Alliance, Inc. The YCLA has recently completed a 12-acre NRCS-funded oak habitat restoration/biochar project on the YCLA's 380-acre property in southwestern Oregon, and has begun work on a US Fish and Wildlife Service-funded project to release another 5 acres of legacy oak and madrone from conifer encroachment and to convert the resulting slash to biochar. His experience in flame cap kiln design and construction, and in the logistics and best practices of multi-acre integrated biochar production has led to consulting work in Oregon, California, Massachusetts and Guam.
-Ken Carloni, Ph.D.  Ecosystem Restoration and Biochar Consulting